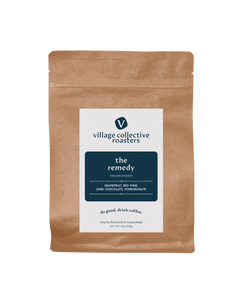 Village Collective | The Remedy
Natural Process
BLUEBERRY, CACAO NIBS, DRIED CRANBERRY.
Start your day off with the medicine. The Remedy is our most lively coffee, dried on African beds using the entire ripened fruit and equatorial sun for 30 days. It's got our signature blend of Catuaí, Caturra & Pache varieties.
Roasted with a delicate medium profile. The taste? Intriguing lively flavors of Blueberry, Cacao Nibs, & Dried Cranberry. It boasts a bright, floral flavor.
Specifications:
12oz. Sealed Bag for Freshness
Producer / Finca:
Angelica Morales
Variety:
Caturra, Cautai & Pache Colis
Grade:
85
Roast:
Medium
Roaster:
Evelin T. & Damari A.