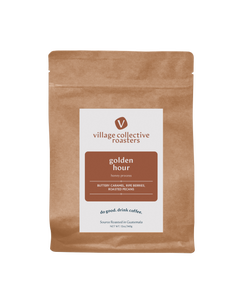 Village Collective | Golden Hour
Honey Process
CARAMEL CORN, SUNDRIED ORANGE, BROWN SUGAR.
That 20 minutes at the start and end of each day where the light in the sky is soft and the colors turn vibrant. For this blend, we depulp the coffee fruit and leave the sweet honey mucilage intact. Next, we sun-dry these gems, nice and slow, in African beds for over two weeks. The sweet nectar caramelizes in the heat and transfers all its juicy goodness into the bean.
Roasted to a rich medium profile. The taste? Caramel corn, sundried orange, and brown sugar in an impressive dance of sweet and creamy.
This one is 20 minutes of pure glory.
Specifications:
12oz. or 5lb. Sealed Bag for Freshness
Producer / Finca:
Finca La Hierba Buena
Variety:
Caturra, Cautai & Pache Colis
Grade:
85
Roast:
Medium
Roaster:
Evelin T. & Damari A.