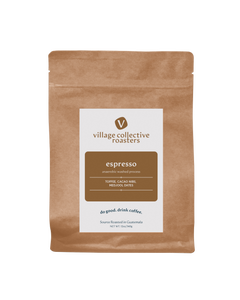 Village Collective | Espresso
Anaerobic Washed Process
TOASTED WALNUT, DARK CHOCOLATE TRUFFLE, BROWN SUGAR.
Our VCO. signature espresso takes washed anaerobic beans and turns up the heat. We patiently extend our roast time to fully develop each and every sugar molecule, rich and smooth for the home latte enthusiast. Try it in your stovetop Moka pot or your fancy new Jura machine.
The taste? Toasted Walnut, Dark Chocolate Truffle, Brown Sugar on the palette with a remarkably smooth body & finish.
A specialty coffee for us all, snob and novice alike.
Specifications:
12oz. or 5lb. Sealed Bag for Freshness
Producer / Finca:
Raquel Morales
Variety:
Caturra, Cautai & Pache Colis
Grade:
84.5
Roast:
Dark
Roaster:
Evelin T. & Damari A.