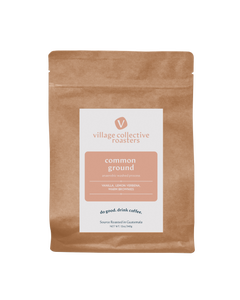 Village Collective | Common Ground
Anaerobic Washed Process
MACADAMIA, MILK CHOCOLATE, CHAMOMILE FLOWER.
Common Ground is a place we can all stand, together. This coffee comes from our most prized lot of the year. First anaerobically fermented for 36 hours, then put through a wash process. It's got our signature blend of Catuaí, Caturra & Pache varieties.
The taste? Macadamia, Milk Chocolate, and Chamomile flowers on the palette with a remarkably smooth body & finish.
A specialty coffee for us all, snob and novice alike.
Specifications:
12oz. or 5lb. Sealed Bag for Freshness
Producer / Finca:
Amilsa Aguilar
Variety:
Caturra, Cautai & Pache Colis
Grade:
86
Roast:
Dark / Medium
Roaster:
Evelin T. & Damari A