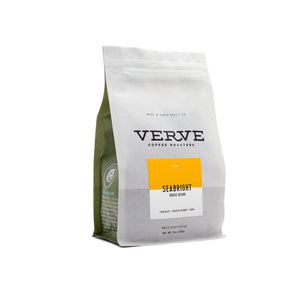 Verve Seabright House Blend
From our home to yours, the Seabright House Blend is classically sweet and undeniably inviting. A rich body of sweet almond filling, paired with ripe cherry acidity, and a clean finish. 
REGION

Antigua, Cauca

CULTIVAR

Bourbon, and Colombia

PROCESSING

Washed

ELEVATION

1,700 - 2,000 Meters

TASTING NOTES

Cherry, Marzipan, Clean


Farmlevel

Nestled in the neighborhood of Seabright lives our Flagship Roastery. This location also serves as the home to our Seabright Cafe. Our House Blend name is a tribute to the neighborhood that we call home. As such, this blend is meant to be shared and a welcome home to those you share it with.

When going about building a "house" blend, we sought coffees that would work together to deliver balance, body and a complex sweetness. As such, Seabright House Blend features coffees sourced from small-holder farmers in the Andean of Cauca, Colombia and Antigua, Guatemala . Two carefully-developed roast profiles work together to guarantee balance and dessert-like sweetness year-in, year-out.