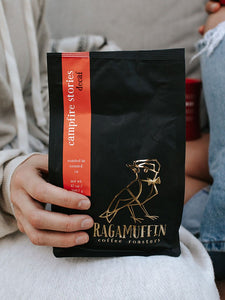 Ragamuffin Campfire Stories Decaf | 12oz
THE PERFECT COFFEE FOR EVENING PARTIES & LATE NIGHT HANGS AROUND THE CAMPFIRE!
TASTING NOTES: GRAHAM CRACKER, COCOA, CITRUS ACIDITY

If you want delicious coffee without the caffeine, Campfire Stories is for you!

This coffee is a washed decaf from Jaen Cajamarca, Peru. It is a Fair Trade Organic coffee put together from 400 small holder farms and exported by cupper / exporter, Rony Lavan.