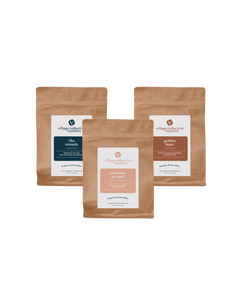 Village Collective | Variety Pack
Three Distinct Processes
THREE UNIQUE FLAVORS
Why choose just one delicious coffee? Perfect for sampling different flavors and roasts.
COMMON GROUND: Anaerobic Washed Process | Macadamia. Milk Chocolate. Chamomile Flowers.
GOLDEN HOUR: Honey Process | Caramel Corn. Sundried Orange. Brown Sugar.
THE REMEDY: Natural Process | Blueberry. Cacao Nibs. Dried Cranberry.
Specifications:
3 12oz. Sealed Bags for Freshness
Producer / Finca:
Amilsa Aguilar, Finca La Hierba Buena, Angelica Morales
Variety:
Caturra, Cautai & Pache Colis
Grade:
85-86
Roast:
Dark / Medium
Roaster:
Evelin T. & Damari A.