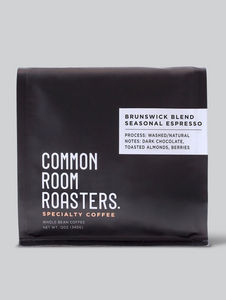 Common Room Brunswick Blend | 12oz
Origins: Colombia, Brazil, Ethiopia
Process: Washed / Natural
Notes: Dark Chocolate, Almonds, Blueberries
Brunswick Blend was awarded 2nd Place in 'America's Best Espresso' in Portland.
We wanted this blend to taste like home. So, we named it after Melbourne's most iconic specialty coffee suburb, - Brunswick.
Brunswick is our go-to signature espresso blend.
Seasonally we rotate the coffees that constitute this blend so you will experience exciting variations, on the same roast profile.
Comprising of seasonal washed and natural coffees, this balanced espresso blend is one that is smooth and soft enough on its own, with enough character to stand up in any milk drink.
Take a trip to Melbourne, have a Brunswick.
Brew Method: Espresso, Filter, French Press