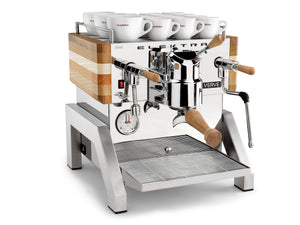 Elektra Verve Dual Boiler Espresso Machine
Elektra Verve Dual Boiler Semi-Automatic Espresso Machine 110V
The Verve is Elektra's newest technologically innovative dual boiler espresso machine! Since the brand is hitting its 52nd year in the specialty coffee industry, it is the perfect time to bring out a machine that is digital, stunning in design, and certainly capable of making the best brews. The Elektra Verve features a PID, which allows you to program the temperature for both the brass coffee boiler and the stainless steel steam boiler. Futhermore, you will be able to control the PID as well as other parameters with your smartphone!
Additional Features:
Even more, the Elektra Verve has a beautiful stainless steel body and fine wood on the side panels as well as the knobs and 58mm portafilter. Different wood options, including oak, ash, and mixed wood (at a higher price) will be available. Although the espresso machine is of semi-commercial grade, it is very suitable to use in your home espresso bar. Additionally, the Elektra Verve will work wonders in your restaurant, coffee shop, or office all thanks to its high levels of adaptability!
Of course this machine gets better! You can use the direct Wi-Fi connection on your smartphone for many different settings. To learn how to activate the Wi-Fi connection for iPhone and Android, view the instructions in the images on top!
Use an app on your smartphone to create a unique espresso recipe by controlling the brewing temperature and pre-infusion time.
To point out a change in Elektra's standard stainless steel design. The Elektra Verve has a stainless steel body with wooden side panels, knobs, and a portafilter.
A rotary pump, dual scale pump pressure gauge/steam boiler pressure manometer, and a saturated brew group integrated coffee boiler.
The unit consists of a high-volume stainless steel steam boiler managed by a pressurstat. The 4-hole steam tip helps froth milk faster and easier.
Switchable

– Can easily go from direct connect mode to 5-liter tank mode and vice versa.

Open top water tank

– For easy cleaning and water refilling. We do however recommend removing the water tank to fill it with water.

Water softener

– Already attached inside the reservoir.
Portafilter

– 1 58mm dual spout with wood handle.

Filter baskets

– 1-cup (~7g), 2-cup (~14g), & blind (for backflushing).

Keys

– For programming.

Trip tray extender

– For smaller espresso cups. Distance from the drip tray to the portafilter spout is ~4.25″. Distance from the extension to the portafilter spout is ~3.25″.

Power plug

– Detaches completely from the machine for long-term storage.

Water line hose

– For connecting to a direct water supply. Comes with fittings on both ends.

Drain hose

– For draining the drip tray.
Are you actually interested in a similarly designed espresso machine with a heat exchange system instead? Then check out the Elektra T1 Sixties Deliziosa!
Please note that Elektra has decided to start with only one wood option As of August 12, 2020. Other wood options may be available in the future, but there are no expected time frames.
Espresso Machine Warning:
ELECTRICAL WARNING: To avoid electrical damage to this espresso machine which is not considered a manufacturer's defect, please acquire and install a single-outlet surge suppressor rated at 1080 joules or higher. the lack of the recommended surge suppressor, the espresso machine can be damaged at the power switch, the electronics, the heating element, the pressurstat or the wiring inside.
WATER WARNING: To increase the useful life of and not damage your espresso machine, please use softened water. Softened water is water without calcium and without magnesium, but still has other minerals for espresso extraction. Do not use distilled water, purified water, nor reverse osmosis water as these types of water create oxidation with the metals and cause the same damaging effects as limescale.
DESCALING WARNING: We do not recommend descaling unless there is an issue with the espresso machine. The reason is that too much descaling can eat away at the metals and gaskets inside an espresso machine.
Specifications
| | |
| --- | --- |
| Brand | Elektra |
| Height (inches) | 17, approximate |
| Width (inches) | 18, approximate |
| Depth (inches) | 15, approximate |
| Weight (pounds) | 79 |
| Portafilter size (mm) | 58 |
| Voltage (volts) | 110 |
| Wattage (watts) | Coffee – 600, Steam – 1000 |
| Boiler capacity (liters) | Coffee – 0.14, Steam – 1.6 |
| Tank capacity (liters) | 5 |
| Country of manufacture | Treviso, Italy |