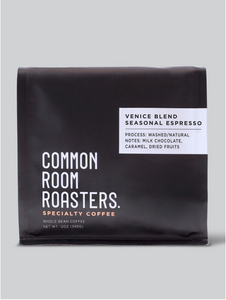 Common Room Venice Blend | 12oz
Origins: Guatemala, Brazil.
Process: Washed / Natural.
Notes: Smooth Milk Chocolate, Caramel, Nuts, Dried Fruits.
The Venice Blend is inspired by our time in California. This is a balanced blend ideal for milk based drinks.
Heavy enough to represent the Urban culture of Venice Beach, with a subtle sweet finish like the infamous Californian Sunset.
Experience life in Venice.
Brew Method: Espresso, Filter, French Press