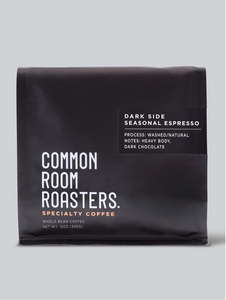 Common Room Darkside Blend | 12oz
Origins: Colombia, Brazil
Process: Washed/Natural
Roast: Medium/Dark.
Notes: Heavy Body, Dark Chocolate, Brown Sugar
This is a blend that we wanted to roast in the traditional American way.
Comprised of two high grade specialty coffees, from Colombia and Brazil, Darkside has deep notes of chocolate, subtle sweetness of brown sugar, and a hint of smoke.
If it's a classic cup of Joe you're after, this is it.
Let's face it, everyone has a dark side.
Brew Method: Espresso, Filter, French Press