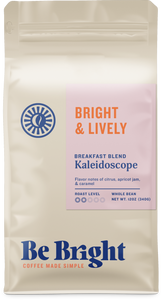 Be Bright Kaleidoscope Breakfast | 12oz
Caramel sweetness stars in this tremendously drinkable breakfast blend, brightened by a citrus acidity and an inviting apricot jammy finish.

Flavor notes of Citrus, Apricot Jam, & Caramel
ABOUT THIS COFFEE

This wonderfully balanced and approachable organic blend is a perfect companion for your morning breakfast meals. Our Kaleidoscope Breakfast Blend is aptly named because just like how a Kaliedoscope shows a continually changing pattern of shapes and colors, our Breakfast Blend is sure to offer flavors that bounce off each other in fun and interesting ways throughout the year.

Roasted a bit on the lighter side, expect the acidity to carry this coffee forward with every sip. As this coffee cools, you can be sure to taste and experience more of the citrus acidity come out and reveal itself as it takes over the more mellow caramel and jammy sweetness experienced earlier on.

The two components paired to create Kaleidoscope are Honduras Pacayal and Ethiopia Chelbesa. The Pacayal offers the base and foundation with its caramel sweetness and rounded mouthfeel, whereas the Chelbesa acts as the accent component, offering a bright citrus acidity and jammy sweetness. Together, these coffees present a vivid and memorable experience and are sure to bring a lively wake up call to your palates every morning!